one kind of Omron photoelectric sensors with Built-in Amplifier.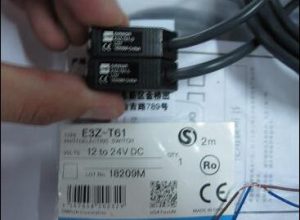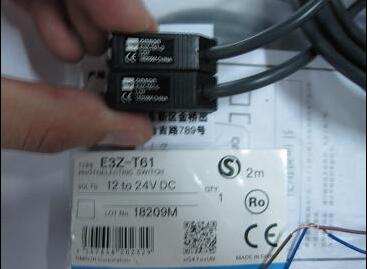 known as popular models in the factory industrial automation industry. The Manufacturer Omron can sell 1 million Every year.
because it is the most popular built-in amplifier sensor models in the world.so we can send you with a very competitive price and fast delivery time.
Therefore many field like SMT industry, Automatic Car park Control System, thief proof system etc use it.
Model E3Z-T61 Performance
Sensing method
Through-beam
Model
NPN 
Pre-wired
E3Z-T61
E3Z-T62
E3Z-T61A
output
Connector 
E3Z-T66
E3Z-T67
E3Z-T66A
(M8)
PNP 
Pre-wired
E3Z-T81
E3Z-T82
E3Z-T81A
output
Connector 
E3Z-T86
E3Z-T87
E3Z-T86A
(M8)
Sensing distance
15 m
30 m
10 m
Spot diameter 
(reference value)
Standard sensing object
min. diameter: 12-mm
Price
USD 15.00
Country Of Origin
China
Minimum detectable object 
(reference value)
Directional angle
From receiver to emitter
3 to 15°
Light source (wavelength)
Infrared LED
Red LED
(870 nm)
(660 nm)
Current consumption
35 mA max. (Emitter: 15 mA
max., Receiver: 20 mA max.)
Protection circuits
Reversed power supply protection
Output short-circuit protection
and Reversed output protection
Response time
Operate
Operate
or reset:
or reset:
1 ms
2 ms
max.
max.
Degree of protection
IEC, IP67
Connection method
Pre-wired cable
Weight 
Pre-wired cable 
Approx. 120 g
(packed 
(2 m)
state)
Connector
Approx. 30 g
Material
Case
Lens
Modified polyarylate
finally, welcome to contact us via the contact form we supply. Our company EUESNES CONTROL SYSTEM  will response you as soon as possible.
Partner:Omron Industrial Automation   Panasonic PLC
Panasonic Servo Motor distributor