Panasonic PLC FP0 Series Model FP0-C14RS
High Speed Operation
RS232C port enables serial communications.
Wide variety of analog units available
| | |
| --- | --- |
| Brand/series: | FP0 Series |
| Contact Form: | SPST-NO |
| Current, Input: | 4.3 mA |
| Dimensions: | 25mmW×90mmH×60mmD |
| High-speed Operation: | Scanning Speed Is Approx. 0.9 ms |
| Input Type: | Voltage |
| Lead Free Status / Rohs Status: | RoHS Compliant part |
| Memory: | EEPROM |
| Memory Type: | EEPROM |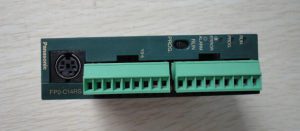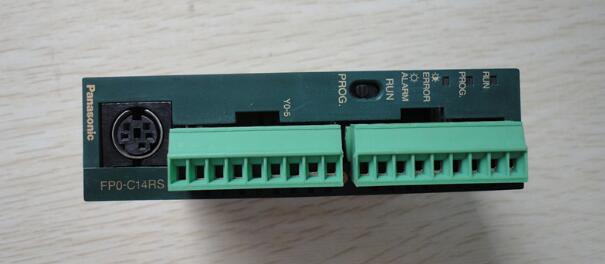 FP0-C14RS Performance Specification
Model
FP0-C14RS
No expansion (control unit only)
14 points
[Input: 8, NPN Output: 6]
Number of I/O points
W/expansion 1
Max. 62 points
* Same type of control and expansion units
W/expansion 2
Max. 110 points
* Mix type of relay and transistor units
Programming method / Control method
Relay symbol / Cyclic operation
Program memory
EEP-ROM (no back up battery required)
Program capacity
2.7 k steps
Number of instructions
Basic
83
High-level
115
Operation speed (central value/step)
0.9 ms/step (for basic instructions)
Operation memory points
Relay
Internal relay (R)
1,008 points
Timer/Counter (T/C)
114 points
Memory area
Data register (DT)
1,660 words
Index register (IX,IY)
2 words
Master control relay points (MCR)
32 points
Number of labels (JMP and LOOP)
64 labels
Differential points
Unlimited number of points
Number of step ladder
128 stages
Number of subroutines
16 subroutines
Frequently Asked Questions.
We have large quantity for common used items,
Can you send goods in time?
We can send your items in 24 hours. it takes about maximum 7 days by air to most of the world.
How long about your guarantee:
our guarantee period is one year.
Are your products are origin and brand new?
Yes, we only do business of Origin and brand new products.