Sale!
Description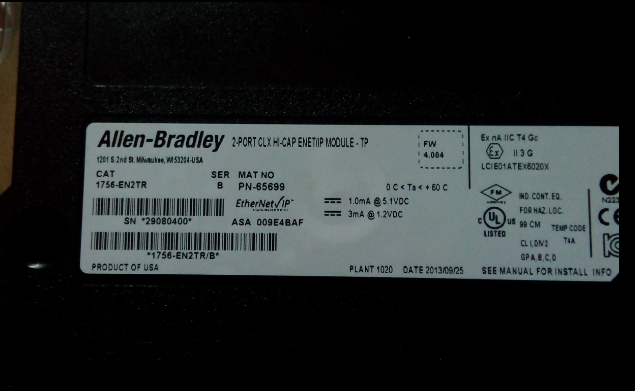 1756 ControlLogix Communication Modules 1756-EN2T
Standard ControlLogix Model Numbers 1756-EN2F, 1756-EN2T, 1756-EN2TR, 1756-EN3TR, 1756-ENBT, 1756-EWEB,
1756-CN2, 1756-CN2R, 1756-CNB, 1756-CNBR, 1756-DNB, 1756-DHRIO, 1756-RIO, 1756-DH485, 1756-SYNCH, 1756-EN2TSC.
A ControlLogix system uses connections to establish communication links between devices. The types of connections include the following:
Controller-to-local I/O modules or local communication modules
Controller-to-remote I/O or remote communication modules
Controller-to-remote I/O (rack-optimized) modules
Produced and consumed tags
Messages
Controller access with the Studio 5000 environment
Controller access with RSLinx® software for HMI or other applications
Technical Specifications 1756-EN2T etc.
Model
1756-EN2F
1756-EN2T,
1756-EN2TR,  1756-EN3TR
1756-ENBT
1756-EWEB
1756-EN2TSC
EtherNet/IP communication rate
100 Mbps
10/100 Mbps
10/100 Mbps
10/100 Mbps
10/100 Mbps
Current draw @ 5.1V DC
1.2 A
1:00 AM
1:00 AM
700 mA
Current draw @ 24V DC
3 mA
3 mA
3 mA
3 mA
Power dissipation
6.2 W
5.1 W
5.1 W
3.7 W
Thermal dissipation
21.28 BTU/hr
17.4 BTU/hr
17.4 BTU/hr
12.6 BTU/hr
Module location
Chassis-based, any slot
Chassis
1756-A4, 1756-A7, 1756-A10, 1756-A13, 1756-A17
Power supply, standard
1756-PA72/C, 1756-PA75/B, 1756-PB72/C, 1756-PB75/B, 1756-PC75/B, 1756-PH75/B
Power supply, redundant
756-PA75R, 1756-PB75R, 1756-PSCA2
Ethernet port
1 Ethernet fiber
1 Ethernet RJ45 Category 5
1 Ethernet RJ45 Category 5
Ethernet cable
Multimode fiber, LC connector
802.3 compliant shielded or unshielded twisted pair
USB port(1)
USB 1.1, full speed (12 Mbps)
—
Wiring category(2)
3 – on USB ports
2 – on Ethernet ports 3 – on USB ports
2 – on Ethernet ports